Work begins on ambitious new plans for the National Motor Museum at Beaulieu, while an exciting exhibition tells stories from the past to take you on a journey to the future of motoring.
Brand new Simply Tesla joins the 2023 events line-up and outdoor cinema, under the sun or stars, gives a festival feel to a bank holiday weekend which will kickstart your summer.
Enjoy the return of BBC Gardeners' World Spring Fair and internationally-acclaimed Sculpture at Beaulieu. Then discover gems from Beaulieu's firefighting past, see new portraits in Palace House and make the most of a chance to stay at the caravan club's pop-up campsite this summer. The award-winning attraction in the heart of the New Forest offers a great family day out, where memories can be made together. 
---
See new exhibition: Motopia? Past Future Visions
As we stand at a crossroads for the future of motoring, see new exhibition Motopia? Past Future Visions in the National Motor Museum from May.
The way we travel is changing faster today than ever before . . . or is it? A century ago we were having the same conversations about how to fuel our cars – with petrol, electricity, steam or even fantastic sci-fi predictions of flying cars.
Experience an immersive journey through 130 years of future thinking about automobility. Explore how this has influenced not only what we ride and drive, but also our towns and cities, the way we work, shop, learn and live our lives. Discover some of the radical concepts from the past that are being discussed again today, to take motoring forward for the future.
In a newly designed museum exhibition space, see art, films, vehicles, concepts and examples of innovative technology from the past which will take you on a journey to the future.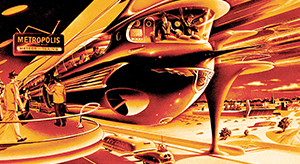 Work starts on ambitious museum plans
See ambitious plans start to take shape in the National Motor Museum, as we begin work on phase one of a four-phase project from the autumn.
With a £200,000 grant from the Department for Digital, Culture, Media & Sport (DCMS) and The Wolfson Foundation, the first phase will transform the entrance gallery into a new welcome area, where you can learn about the museum's foundation.
Two further galleries will be combined into a large exhibition space to tell the remarkable story of motoring from its beginnings to its present and future, as well as the shared experience of its impact on all of our lives. Themed galleries will remain on the lower and raised mezzanine floors.
National Motor Museum Trust fundraising will begin to match the grant with its own contribution towards the Motoring into the Future project, which will create a more engaging and interactive start to the museum's visitor journey.
National Motor Museum Trust Chief Executive Jon Murden said: "It is the first step on a long road, with bold plans to raise £15-20 million over the next seven years to fully realise our ambitions."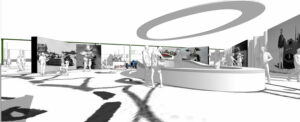 See Sculpture at Beaulieu showcase
A showcase featuring hundreds of stunning sculptures returns next summer with Sculpture at Beaulieu throughout the grounds and inside the Montagu family home, from June 17th to September 24th.
The prestigious and unique collection of work from around 50 international and national sculptors will build on the success of two previous exhibitions. New for 2023 will be special viewings when the attraction opens after-hours, for warm summer evening visits during July and August.
The impressive display will include eye-catching, life-size sculptures to more intricate pieces, inspired and created from a wide range of materials and themes. From the atmospheric ruins of 13th century Beaulieu Abbey to the Victorian flower garden, each sculpture will be set in the perfect surroundings.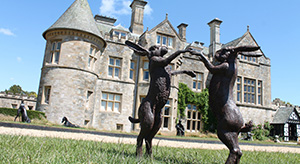 New portraits in Palace House
See new portrait exhibition Over Time in the Victorian Kitchen of Palace House at Beaulieu, from January 16th to March 17th.
Emerging artist Tom Pettis has created the collection of works during an artist residency at Beaulieu, capturing on canvas both Palace House and the characters who work there and know it well.
The artist from Hythe in Hampshire, who graduated with a degree in Fine Art from Arts University Bournemouth, wanted to show staff working for a modern country estate and the Victorian House staff they portray to entertain visitors.
Painting in his favourite but painstaking medium of egg tempera, Tom built up layers of small brushstrokes over time using a technique which dates back to ancient times. His work also explores the nature of Palace House, which evolved over time into a grand family home.
Since graduating, Tom has gone on to display his work in a number of national and international exhibitions, while his work is held in numerous private collections.
See Tom's work and the characters it depicts on a visit to Palace House at Beaulieu.
Cinema with a festival feel on bank holiday weekend
Go to the movies and see your favourite film in a picture-perfect backdrop, as Beaulieu hosts the UK's largest touring outdoor cinema across Spring Bank Holiday weekend in May.
From Top Gun: Maverick to a singalong of the Greatest Showman and Mamma Mia!, Adventure Cinema will make it an experience to remember.
Disney's Encanto is a children's favourite, or bring the whole family to watch Elvis which spans the generations.
At the home of the National Motor Museum, how could we miss adding a motoring film themed day? Pick your favourite movie from a selection of seven films, then sit back, relax and enjoy your screening from Friday 26th – Monday 29th May.
Buy your ticket, pack a picnic, camping chair and a blanket, then join us under the sun and stars for a fun evening with family and friends. This is cinema with a festival feel – and just what you need to kickstart the summer.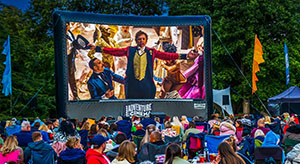 Trendsetting Simply Tesla is brand new for events line-up
Join event-goers at brand new Simply Tesla as it gathers trendsetting EVs in the grounds of the attraction on October 1st. The new event is the latest addition to Beaulieu's range of 15 popular Simply rallies for motoring enthusiasts throughout the year. Simply VW is also moving to the same day as VW T Chill family-friendly camping event on August 13th.
BBC Gardeners' World Spring Fair will return from April 28th to 30th, with a green-fingered paradise packed with flower displays and plants to buy. See inspirational Beautiful Borders and gardening supplies for sale, plus the BBC Good Food Market, street food and musical entertainment.
See glitzy American classics and jaw-dropping hot rods at The Custom & American Show on Father's Day on June 18th, while high-octane family favourite Beaulieu Supercar Weekend on August 5th and 6th will feature some of the world's most exciting supercars.
Following its successful return in 2022, Spring Autojumble will be back on May 13th and 14th followed by the UK's biggest autojumble, award-winning International Autojumble on September 2nd and 3rd – which will be packed with classic spare parts and cars for sale, motoring literature and automobilia bargains.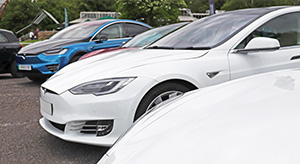 Discover Beaulieu's firefighting past
Discover an exciting part of Beaulieu's firefighting history which has returned to the attraction to go on display. The beautifully preserved Merryweather fire pump, which is believed to be the first Beaulieu Manor fire appliance, would have been pulled by two horses and used by Beaulieu's firefighting team from the 1860s.
The hand-painted wagon shows that red was not the universal colour for fire pumps in the 19th century. Its B&Q initials are not for a DIY store – but show the pump was bought by the Duke of Buccleuch and Queensberry, who owned the Beaulieu Estate until 1867.
Lord Montagu's grandfather John revived the Beaulieu Fire Brigade in around 1907 and paid for the Merryweather pump to be put in order, half a mile of hose to be repaired and an alarm bell added with various other pieces of equipment. He also headed fundraising for uniforms and two years later, built an engine shed for the brigade.
Stay at Beaulieu with caravan club's summer pop-up
For a summer getaway, take advantage of a unique opportunity to stay at Beaulieu with the Caravan and Motorhome Club's pop-up campsite from July 4th – 31st.
Caravans, motorhomes and tents are all welcome for stays in the stunning grounds of the Beaulieu Estate visitor attraction.
In a special offer, buy a ticket to the Beaulieu attraction then come in for visits as many times as you like during your stay. Your ticket includes entry to the National Motor Museum, Palace House, World of Top Gear, Little Beaulieu adventure play area, Beaulieu Abbey and its beautiful grounds and gardens.
It's the ideal base to make the most of local cycle and walking routes on your doorstep and explore all that the New Forest National Park has to offer.
Book your stay and tickets to Beaulieu. For tickets and details click here.
Explore The Story of Motoring in 50 Objects
To celebrate the 50th anniversary of the National Motor Museum, explore the exhibition telling The Story of Motoring in 50 Objects from now until April 16th.
Discover the top 50 objects which were chosen from over 1.9 million items in the internationally-acclaimed collection cared for by the National Motor Museum Trust. Only the most historically important vehicles, motoring artefacts, film footage, images, documents and books made the final selection.
From stunning Land Speed Record breaker Golden Arrow, which was chosen for its tremendous aircraft power in a car, to the 1911 Rolls-Royce Spirit of Ecstasy mascot, cat's eyes and a 1920s children's book telling the story of charabanc rides which carried workers on day trips to the seaside . . . all help to tell the story of motoring. Use the Smartify app to scan objects and uncover more content and stories.
Head for Destination Adventure! at refreshed World of Top Gear
Take a tour around the new displays and see new motors in the recently refreshed World of Top Gear, which pays homage to the impressive adventures of Freddie, Chris and Paddy.
Coming bang up-to-date, follow the three new themes: Destination: Adventure! takes you to far-flung places, while Innovation explores the changing face and motoring and Team Top Gear celebrates the love of vehicles and car culture around the world. Don't forget to look out for The Stig and watch the new introductory film in the Enormodrome.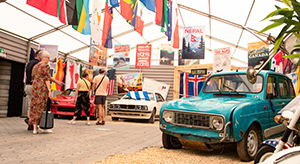 Motoring parades make holiday memories
Get set for the daily motoring parade*, when vehicles of yesteryear rumble into life and drive out of the National Motor Museum for demonstration laps of the arena during the school holidays. Bring back memories with cars from the wartime era and the modern classics you will remember your family driving.
Around the grounds, meet larger-than-life living history characters. Chat to the archaeologist about the turbulent history of Beaulieu Abbey, meet the bus driver as you hop aboard the Veteran Bus and talk to costumed Victorian servants in Palace House about their duties in the Montagu family home.
As an added extra, take a ride in the popular Chitty Chitty Bang Bang reconstruction, which will be driving around the attraction for all to admire. Book a ride and take your seat in this 'fine-four-fendered-friend'. It's a truly unique experience for any film fanatic!
*Parades will not take place on event days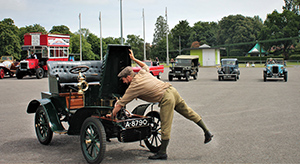 ---