Explore the history of motoring...
...from familiar British marques...
...to gems from the dawn of motoring.
See sports cars of the present and past.
Explore Jack Tucker's Garage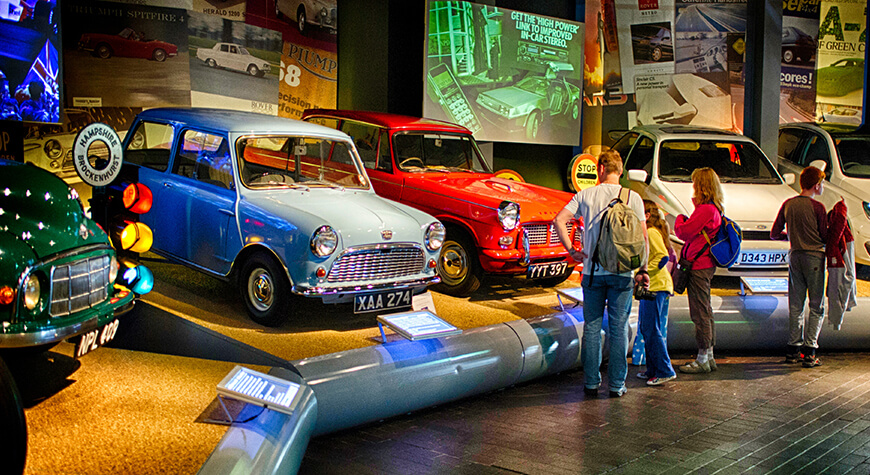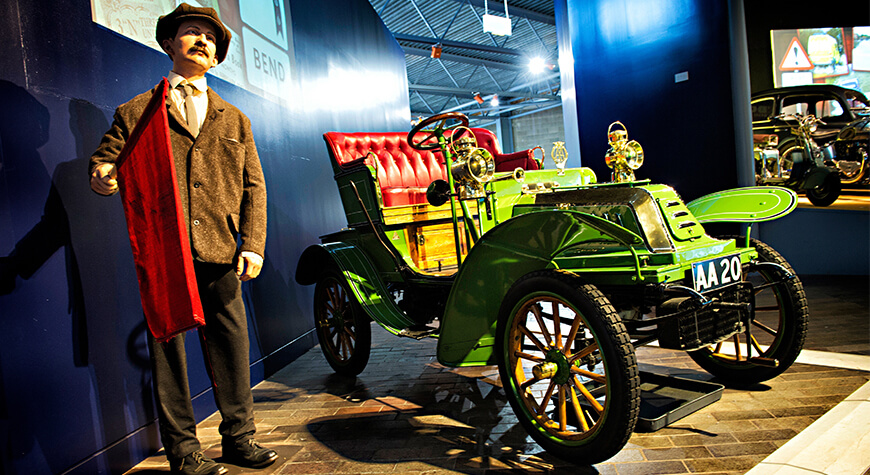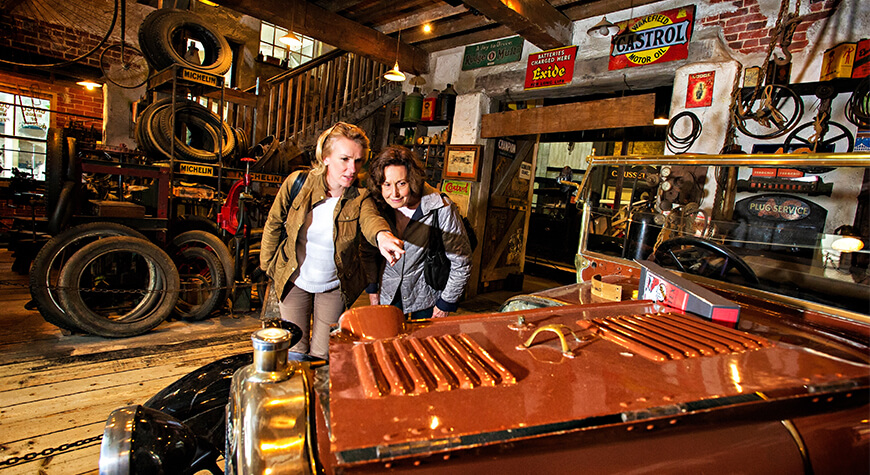 From the earliest motor carriages to classic family saloons, the world-famous National Motor Museum has one of the finest collections of cars, motorcycles and motoring memorabilia in the world.
From legendary F1 cars and land speed record breakers for the speed freaks, to incredible examples of pioneering motoring for the history-buffs.
Please note the BRM V16 and the Outspan Orange are currently off display. 
---
NEW EXHIBITION – BOND IN MOTION – NO TIME TO DIE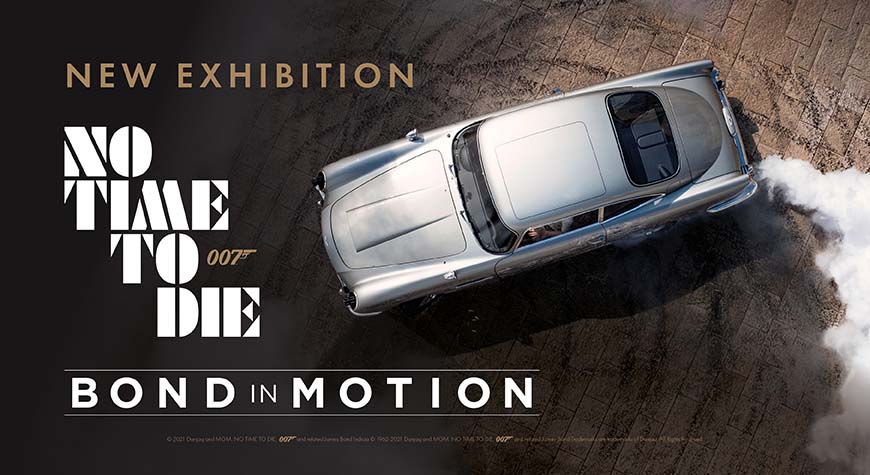 NEW for 2022! We're delighted to launch our brand new exhibition: Bond in Motion – No Time To Die.
Featuring iconic cars, gadgets and costumes from the latest 007 film, Bond in Motion – No Time To Die is a brand new exhibition in the National Motor Museum.
---
THE VEHICLES
With the oldest dating from 1875, the National Motor Museum Trust possesses a collection of 285 vehicles.  You can browse the entire vehicle collection on the National Motor Museum Trust website here.
The Luxury of Motoring
Explore the golden age of luxury motoring in a brand new display with a glittering centrepiece of 28 Lalique mascots. More…
DRIVING CHANGE
Explore the evolution of the motor car in this exciting display. Meet the Beaulieu crash test dummy and turn knobs and handles to see how gears, suspension and engines work. More…
A CHEQUERED HISTORY
Step into the adrenaline-fueled world of motor sport. Grand Prix Greats celebrates the history of F1, whilst Road, Race & Rally focuses on sports cars from rallying, hill-climbing, and the consumer market.
JACK TUCKER'S GARAGE
Explore a rustic 1930s garage, packed full of artefacts, fixtures, fittings, tools and ephemera from a bygone age.
THE MOTORCYCLE STORY
From the early days of motor sport to urban culture, see motorcycles displayed with unique backdrops, each giving a hint to their cultural context.
FOR BRITAIN & FOR THE HELL OF IT
Experience the triumph of British Land Speed record attempts in an inspiring multi-media display.
Please note the 1920 350hp Sunbeam is currently undergoing maintenance and is not on display.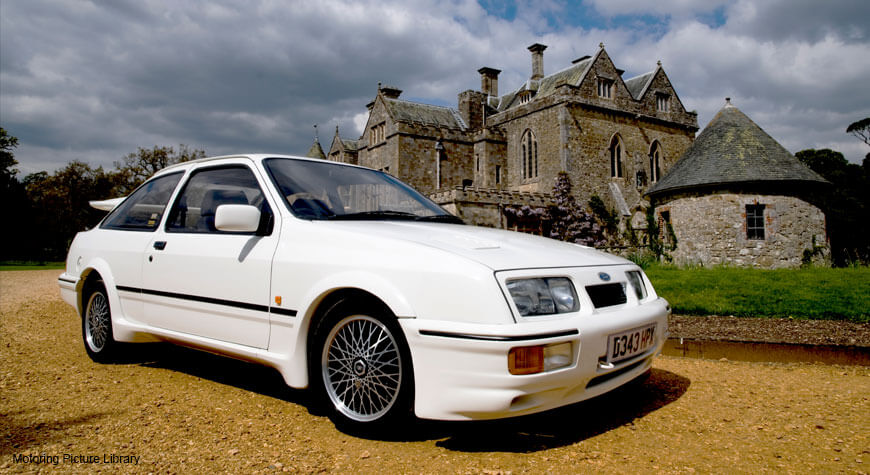 FORd at beaulieu
Ford has enjoyed close links with Beaulieu since 1971. Discover more about Beaulieu's Ford collections.
Behind the scenes
What's it like to work with some of the finest historic vehicles in the world? Find out how our engineers care for the vehicles in our collection in the National Motor Museum Workshop Blog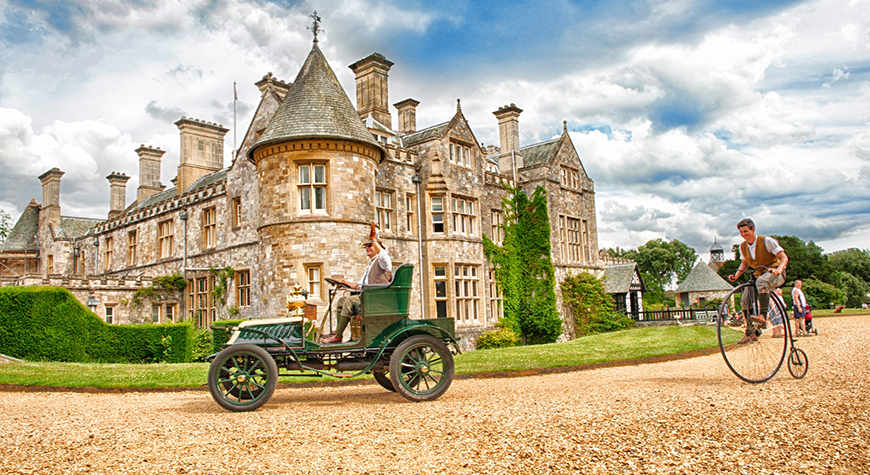 THE BIG 5 MUSEUMS
The National Motor Museum is one of five leading National Motor Museums across Europe, who have joined forces to display over 1,500 classic cars for enthusiasts to admire.
Itineraries: Plan your day out
To help you make the most of your visit, we've put together some suggested itineraries with hints and tips to help you plan your day out at Beaulieu.
What vehicles do you have on display?

You can see a full list of vehicles on the National Motor Museum Trust website. At certain times the vehicles on display may change. If there is a particular vehicle you wish to view please contact us on 01590 614541 before your visit to check it is on display.
I'd like help with motoring research / I'd like to donate a vehicle

Please contact The National Motor Museum Trust for more information.
Do you offer driving experiences?

Unfortunately because many of the vehicles in the motor museum are of historical significance or privately owned we are unable to offer any 'extras' such as birthday or anniversary rides.
---
We were lost for words at the amazing collection!
---