Enhance your visit to Beaulieu in the company of one of our expert tour guides.
Our friendly guides offer a range of tours to suit all interests. With over 800 years of history to be seen, there's plenty to choose from!
Select from one of our fascinating guided or special tours, available to groups of a maximum of 20 people.
---
GUIDED TOURS
These tours are among our most popular; bringing together more than 60 years of experience in welcoming group visits.
The Grand Tour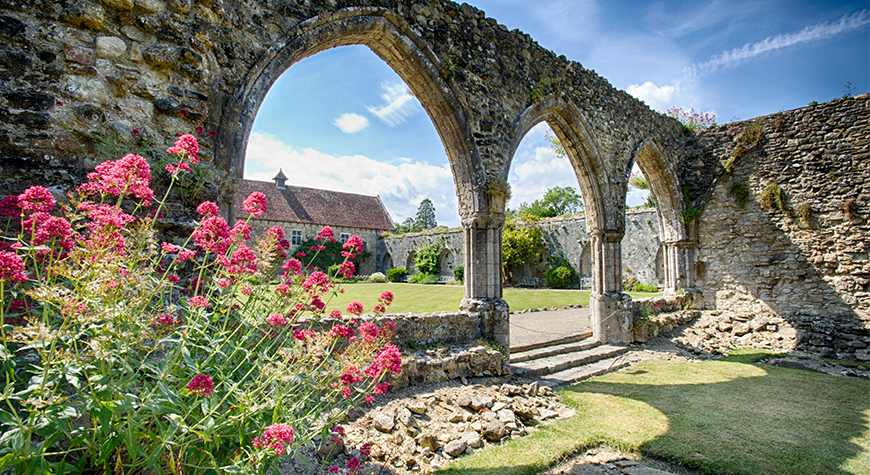 An in-depth tour taking in the buildings and history of Beaulieu; the Abbey founded in 1204 and Palace House, the intimate family home of the Montagus. History, romance, fact, anecdote, rare artefacts and picturesque buildings combine to inform and enlighten those with a feeling for the romance of times past. (Max group size of 20 people. Approx. 2hrs)
Palace House Tour
Find out about life above and below stairs in the ancestral home of the Montagu family. Learn of its history; from its monastic origins to the present day, and the lives of past generations who have lived and worked here. See exquisite paintings, antique furniture and stunning architecture as you explore a fine example of a Victorian styled country house, now including the late Edward, Lord Montagu's private library and the newly restored Victorian Kitchen. (Max group size of 20 people. Approx. 1hr)
Beaulieu Abbey Tour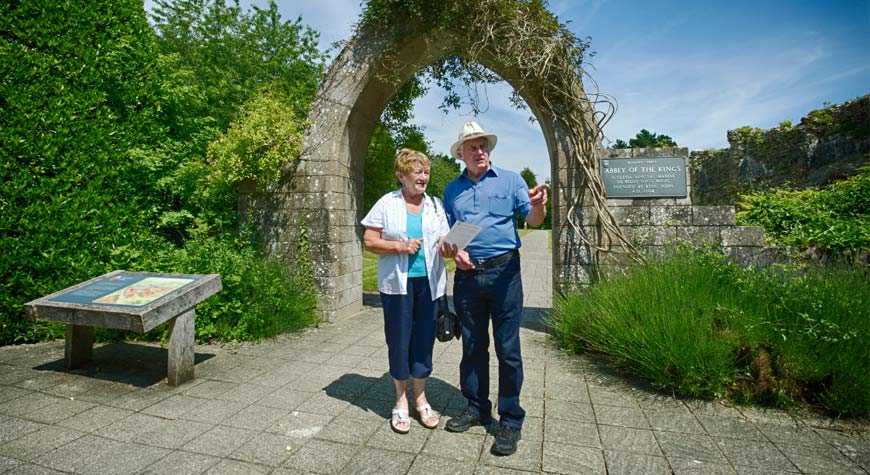 Discover what life was like in the Cistercian Order at Beaulieu Abbey as the monks and lay brothers went about their daily tasks. Find out why the Abbey was founded in the New Forest, how it was built and its importance to the local community for providing food, clothing, sanctuary and even health care. (Max group size of 20 people. Approx. 1hr)
Motoring History Tour
The ultimate tour for those wishing to get to grips with the story of motoring on the roads and circuits of Britain. Hear the stories of motoring pioneers, motor sport champions and land speed record breakers. Enter a garage from the 1930s and wander through a period street scene before exploring our new displays. (Max group size of 20 people. Approx. 1hr)
---
Special TOURS
These tours are designed to inform and entertain, for those who'd like to know more about a particular theme.
The Art of Belinda, Lady Montagu
Join Mary Montagu-Scott, Lord Montagu's sister for a special tour of The Art of Belinda, Lady Montagu – her story in stiches. This latest exhibition in Palace House celebrates the painting,
drawing and needlework of their mother, an accomplished member of the Embroiderers' Guild. It features pieces previously unseen, as well as work for her family, the Beaulieu attraction and
ecclesiastical commissions.
Limited availability – book early. (Max group size of 20 people. Approx 1 hr)
Chief Engineer Tour
With over 40 years' experience as Museum Workshop Engineer, and 30 as Chief Engineer, hear interesting stories associated with the Museum Collection, and get exclusive behind the scenes access to the workshop. Limited availability – book early. (Mon – Fri. Max group size of 20 people. Approx 1.5 hrs)
---
Falconry
Meet Lord Monatgu's official falconer and discover the history of falconry at Beaulieu that can be traced as far back at the 11th century. The tour finishes with a demonstration of the birds of prey in flight in the grounds of 13th century Beaulieu Abbey. Limited availability – book early. (Max group size of 20 people. Approx 1.5 hrs)
The Victorian Kitchen
Meet the Victorian Cook, Mrs Hale, in the restored Palace House Victorian Kitchen, and hear stories of long hours and hard work in the kitchens, from where the organisation of the Victorian household revolved. (Max group size of 20 people. Approx. 1hr)
---
THE VINEYARD TOUR
Grapes have been grown at Beaulieu since medieval times. Between April and October, take a guided tour of the vineyard and find out how the vines are grown, before sampling the wine they produce. (Must be booked 3 months in advance. No lavatory facilities. Appropriate footwear must be worn as ground is uneven. Approx. 45 mins.
Tours must be booked and paid for one month in advance of your visit. The Vineyard Tour must be booked three months in advance. 
---
Groups Brochure
Read or download your own copy of the latest Groups Brochure.

Booking & InFormation
Please contact us to discuss your needs or request copies of our free Group Brochure.
---
You might be interested in…
---
Thank you for the splendid visit yesterday we particularly enjoyed the palace tour the guide was the best we have ever experienced on a guided tour please convey our congratulations to her the head housekeeper or maid she is a special person a real credit to Beaulieu
---