See a range of work by Belinda, Lady Montagu...
..with intricate detail...
..and vibrant colour...
...across a range of mediums...
...with a range of uses...
...inspired by nature and Belinda's surroundings.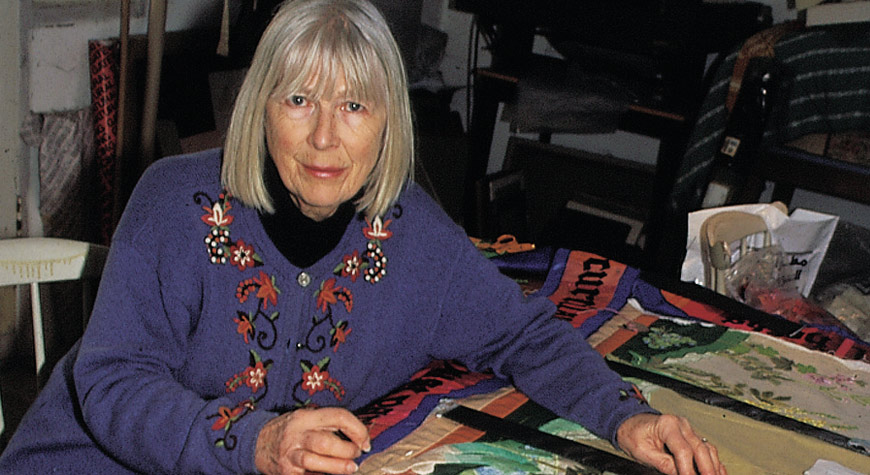 An exhibition celebrating the painting, drawing and needlework of Lord Montagu's late mother, Belinda, Lady Montagu.
---
From colourfully painted house fittings to ornate handbags and bold fancy dress costumes, The Art of Belinda, Lady Montagu – her story in stitches showcases Belinda's work in the former private wing of Palace House.
Featuring previously unseen pieces, the exhibition includes work for her family, the Beaulieu attraction and ecclesiastical commissions.
---
Bold Costumes
Family fancy dresses designed and made for parties will form bold centrepieces to the exhibition.
DETAILED Embroidery
From a beautiful applique nursery screen and highly detailed foot stool to decorative boxes and handbags, the exhibition showcases Belinda's rich and varied designs.
Artistic Souvenirs
Belinda undertook a wide range of work for the family business, including creating souvenirs such as tea towels and mugs.
Colourful designs
Belinda's designs have taken inspiration from nature and her surroundings, as well as her imagination.
---
Belinda, Lady Montagu's Story
Belinda Montagu (nee Crossley) studied at the Central School of Arts and Crafts (now the Central Saint Martins College of Arts and Design) before embarking on a career as a commercial artist.
After marrying Edward, Lord Montagu in 1959, she undertook a wide range of work for the family business, designing posters, souvenirs, menus and displays, and even painting an old merry-go-round which was used as a stage at the Beaulieu Jazz Festival.
After enrolling at Southampton College of Art to study embroidery, Belinda began a prolific period in designing embroidered textiles. Commissions included presentation cushions for HM The Queen, HM Queen Elizabeth The Queen Mother, HRH Prince of Wales and kneelers for the wedding of HRH Prince Edward to Sophie Rhys-Jones.
---
Tickets
The Art of Belinda, Lady Montagu – her story in stitches is included in your admission ticket to Beaulieu, which also includes entry to all the Beaulieu attractions, including Palace House, Beaulieu Abbey, The National Motor Museum, World of Top Gear and more.
After you've seen the exhibition in Palace House, don't forget to visit the Beaulieu Abbey Domus to see Belinda's embroidered wall hangings in the stunning setting that inspired them. They were her largest commission and the series of seven hangings took seven years to complete. The Domus is included in your general admission ticket to Beaulieu.
Discounts are available for groups of 15+. See our group visits page for more information.
---
You might be interested in…
To the Manor Born
Belinda also researched, compiled and illustrated To the Manor Born, a book of family recipes.
Available from the Kitchen Shop at Palace House or via mail order – find out more.
Extend your visit to Buckler's Hard
Just three miles from Beaulieu, you can see more of Belinda's work in St Mary's Chapel at Buckler's Hard, where her sea-themed altar frontal and kneelers are on permanent display.
Chat to our visitor reception team before you leave Beaulieu to find out how you can save up to 30% on your Buckler's Hard tickets.
---