Beaulieu's International Autojumble on Saturday 2nd and Sunday 3rd September was a sun-soaked celebration of the motoring world, with expert talks on the brand new In Conversation With… stage as the icing on the cake of a show packed with great buys.
---
Around 25,000 show-goers joined the weekend's buying and selling action, browsing for bargains amongst hundreds of stands filled with spare parts, books, model cars, retro clothing and all manner of automobilia, while a tempting selection of motors was up for sale in Automart and the Bonhams | Cars auction.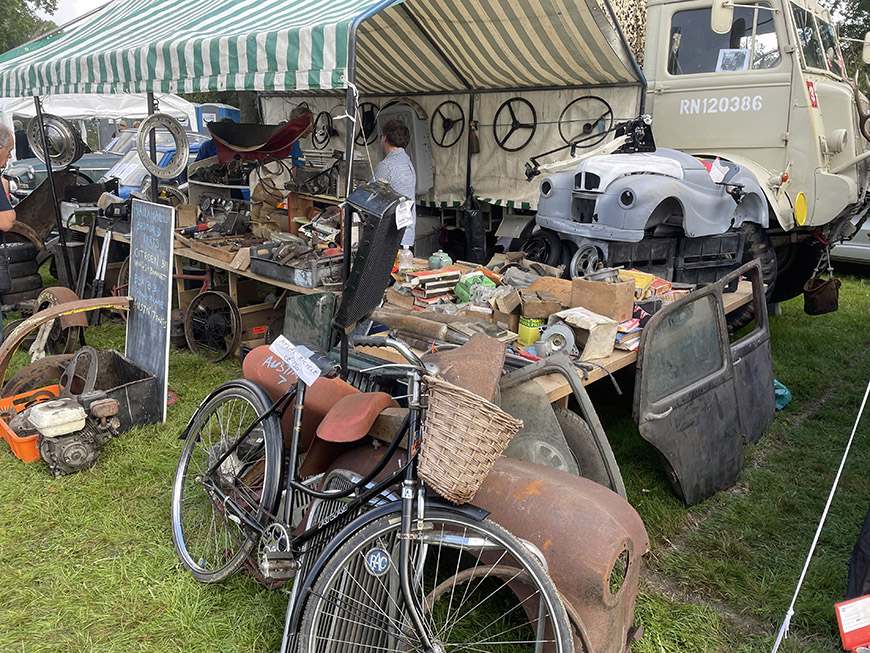 A great social occasion, deals were done and old friends were reunited, entering into the friendly spirit of this big automotive weekend.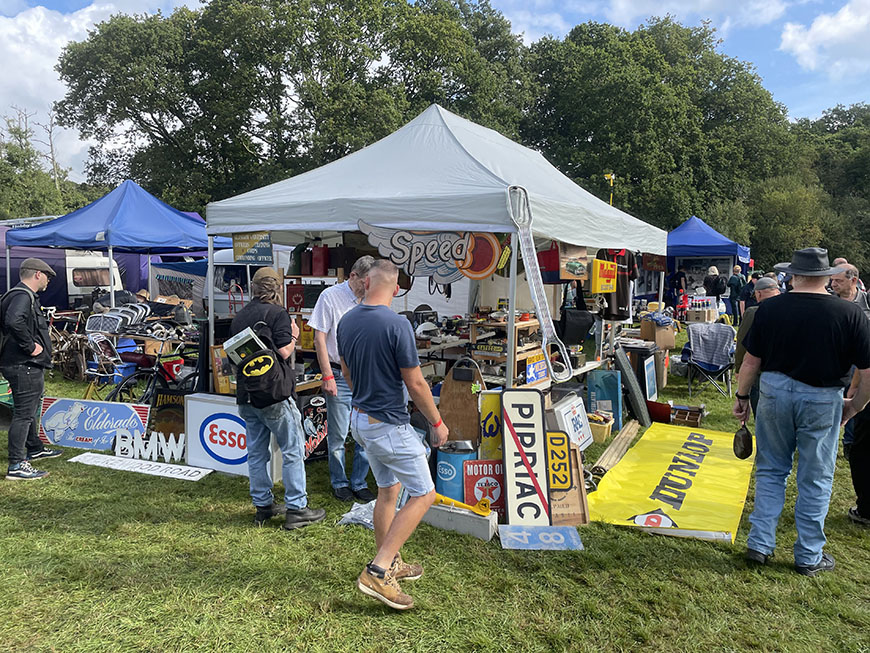 ---
On the In Conversation With… stage, sponsored by Lancaster Insurance, a selection of speakers shared their knowledge as they joined compere Danny Hopkins, the editor of event media partners Practical Classics, for fascinating discussions. On Saturday, it was standing room only as Dominic Chinea, the metalwork guru from BBC's The Repair Shop, discussed traditional restoration skills and some of his favourite classic vehicle projects.
Also a huge crowd-pleaser was renowned custom car builder Andy Saunders, who on the Sunday talked about amazing car parts he has found at past Beaulieu Autojumbles, and how they became instrumental in shaping some of his most extraordinary car builds.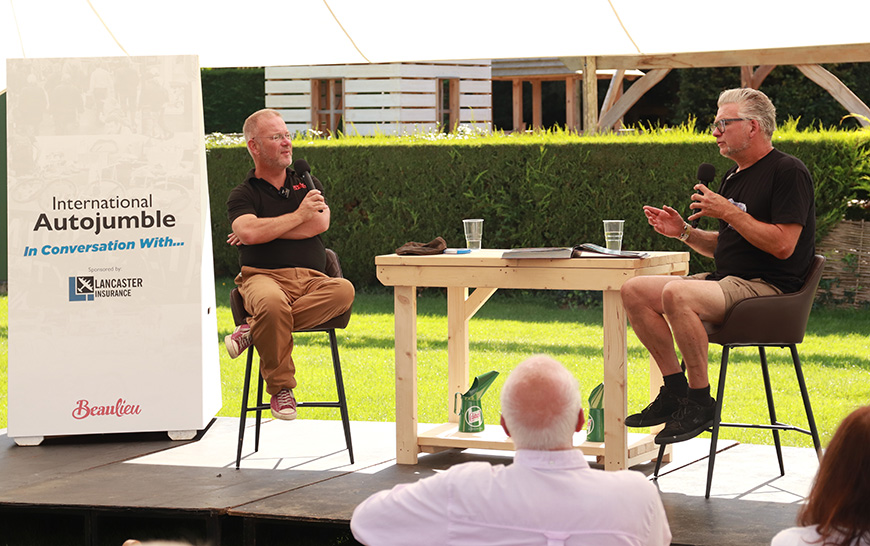 Andy brought along his latest creation, Deja, a stunning roadster created from a derelict Riley and a selection of cast-off spares, plus plenty of imagination and hard graft.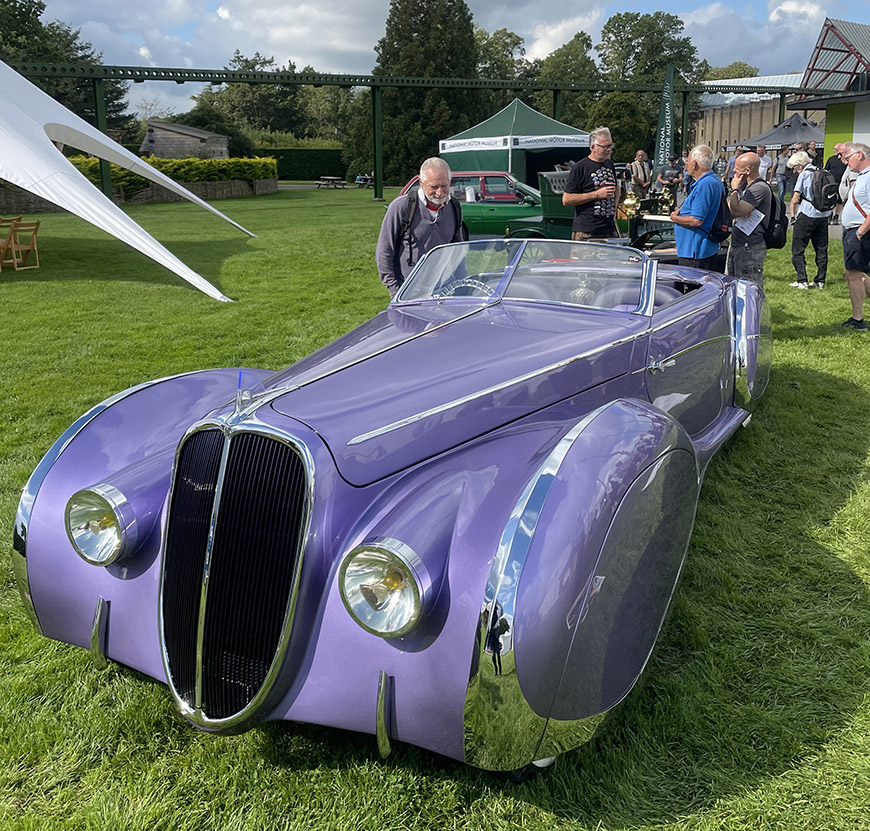 The landmark restoration of the National Motor Museum's Sunbeam 1000hp Land Speed Record breaker was the subject of two very popular talks across the weekend. On the Saturday, Senior Engineer Ian Stanfield, and on the Sunday, Chief Engineer and Museum Manager Doug Hill, both shared their insights into the design and history of the first ever car to break the 200mph barrier, and the considerable challenges to breathe life back into its mammoth engines, which haven't run in decades.
Steph Hoy, Head of Car Club Relations at Lancaster Insurance and best known for her idriveaclassic YouTube channel, gave advice on both days on how to obtain the best insurance cover for your classic. While Ben Field, Managing Director of Vintage Tyres, talked showgoers through the important process of choosing the right tyres for your classic.
---
The Best Stand Award, presented to the stallholders whose pitch truly captures the spirit of the show, was won by Sam Glover and Eleanor and Philip Chubb. A landmark on the International Autojumble fields every year, their stand saw unusual, keenly priced classic car parts sharing space with vintage clothing and mid-century memorabilia. While a grand piano (also for sale) was played by stand helper Ed Hughes, providing relaxed nostalgic tunes throughout the weekend.
Philip said: "I've had a stand here since the very beginning of the Autojumble, until recent years with my friend Ian Maxted, and now my daughter Eleanor and her husband Sam are part of it too. We all love old cars and have a number between us, ranging from Citroens and Austins to Tatras."
Eleanor said: "Sam and I met on the stand eight years ago, and now we're married! The International Autojumble is a cultural experience and we have something for everyone on our stand." Sam added: "It's more about having a good time, rather than just selling. We always have a lot of foreign guests on the stand over the weekend, and we have so many Beaulieu Autojumble friends, only a selection of whom we see at any other time of the year, so it's a pleasure to catch up with and share a drink with them at the show. It's a real long-standing community."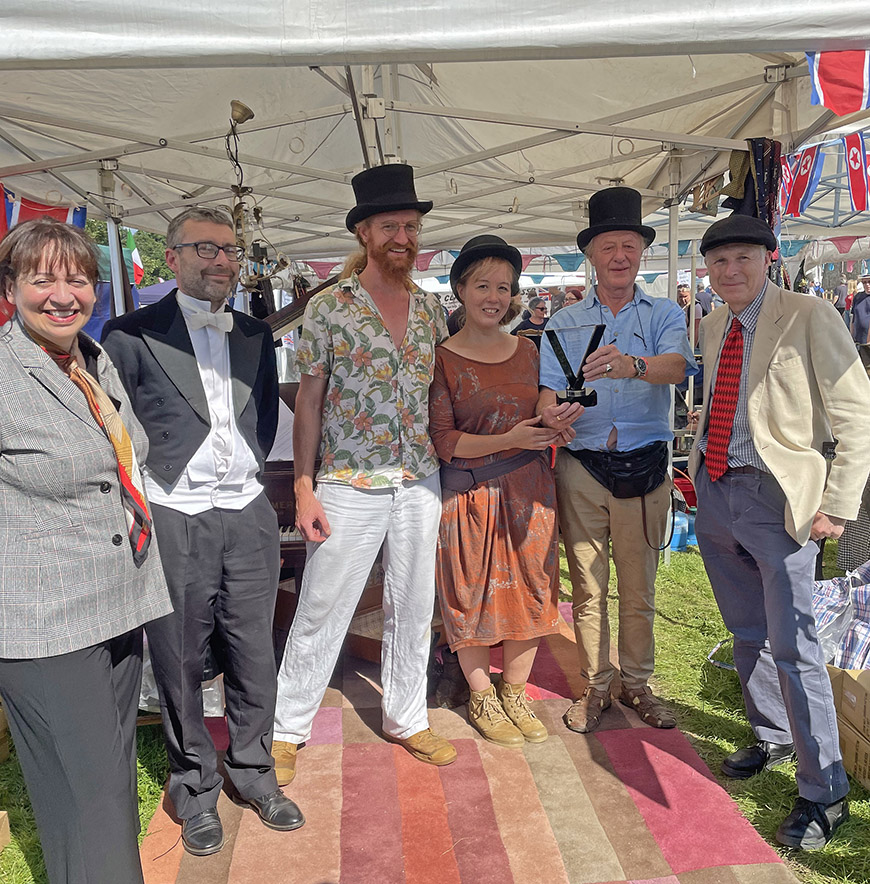 Sam, Eleanor, Philip and Ed were presented with their award by Lord Montagu, Practical Classics Deputy Editor James Walshe, and Lolly Lee, who every year donates the Best Stand Award trophy in memory of her late father and autojumbler Terry Lee.
---
A diverse selection of collectors' cars and automobilia went under the hammer in the Bonhams | Cars auction, with the colourful line-up of vehicles on Beaulieu's Arena proving to be a big hit with show-goers.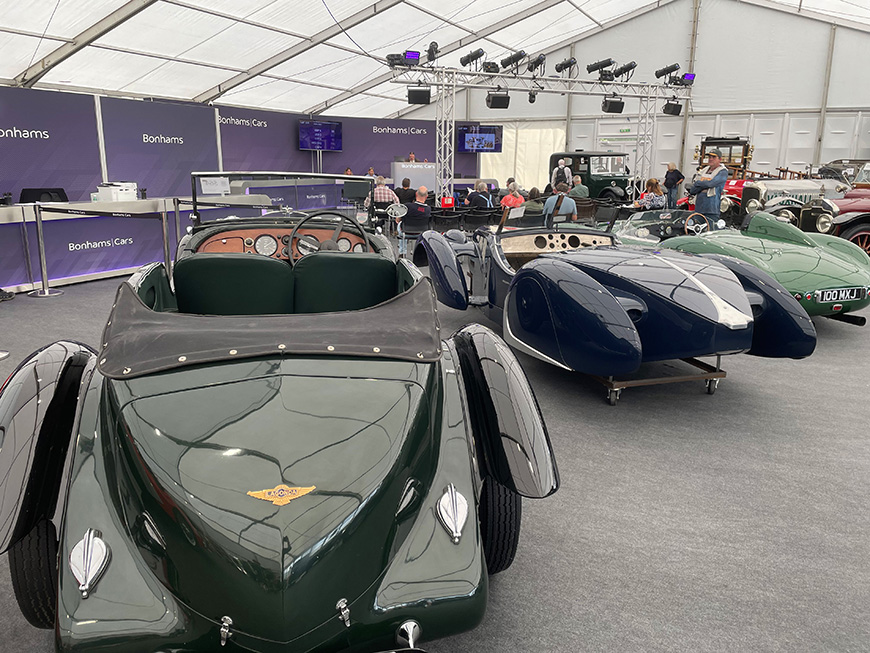 A stunning 1970 Aston Martin DB6 Mk2 sold for £142,600 including premium, with a 1903 De Dion Bouton 6hp selling for £92,000 including premium.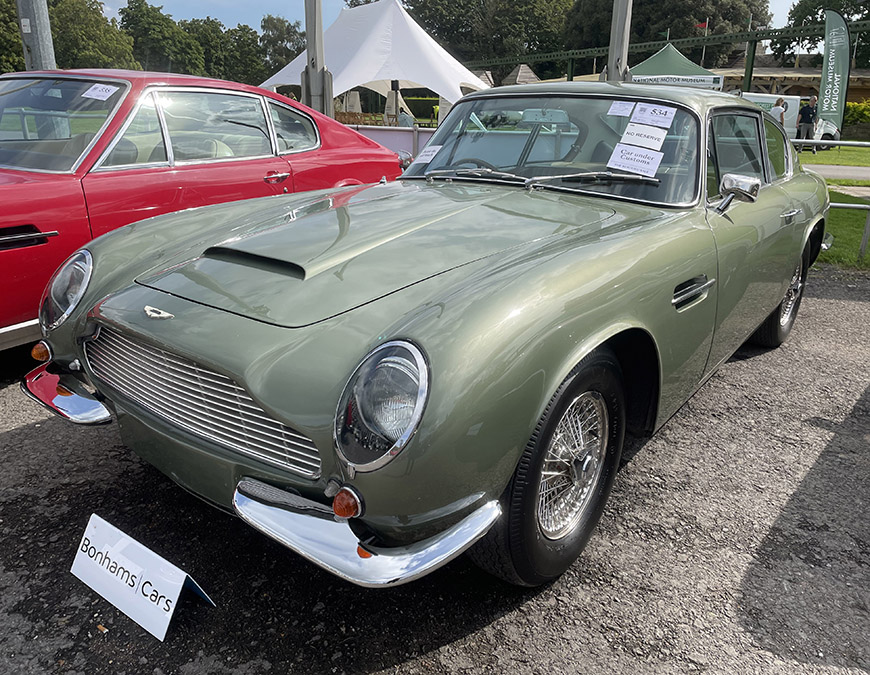 An eye-catching 1974 Auburn Speedster replica sold for £35,650 including premium, with a 1978 Mini 1275 GT in period racing livery sold for £40,250 including premium. While a 1985 Austin Maestro 700 City van, selling for £7,475 including premium, was a true 'when did you last see one of those?' motor.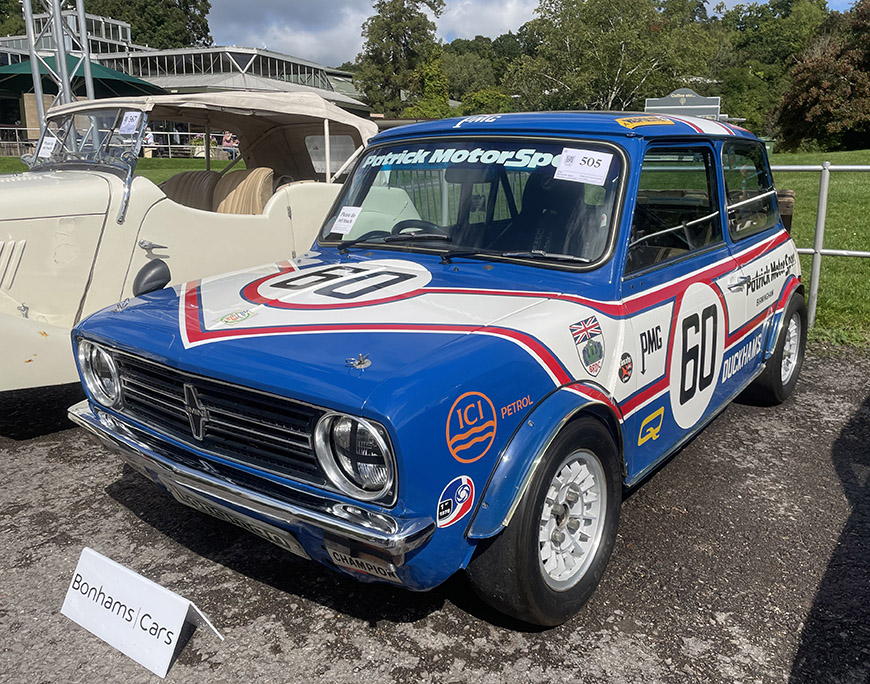 A selection of cars in need of restoration were also in the sale. A rare 1950 Land Rover Series I Tickford Station Wagon project, once used by UNICEF, sold for £10,350 including premium, while a 1933 Wolseley Hornet Patrick Special project, which sold for £4,830 including premium, was full of potential. A 1951 MG YB project sold for just £1,265 including premium, while a wide range of automobilia also had buyers reaching for their wallets.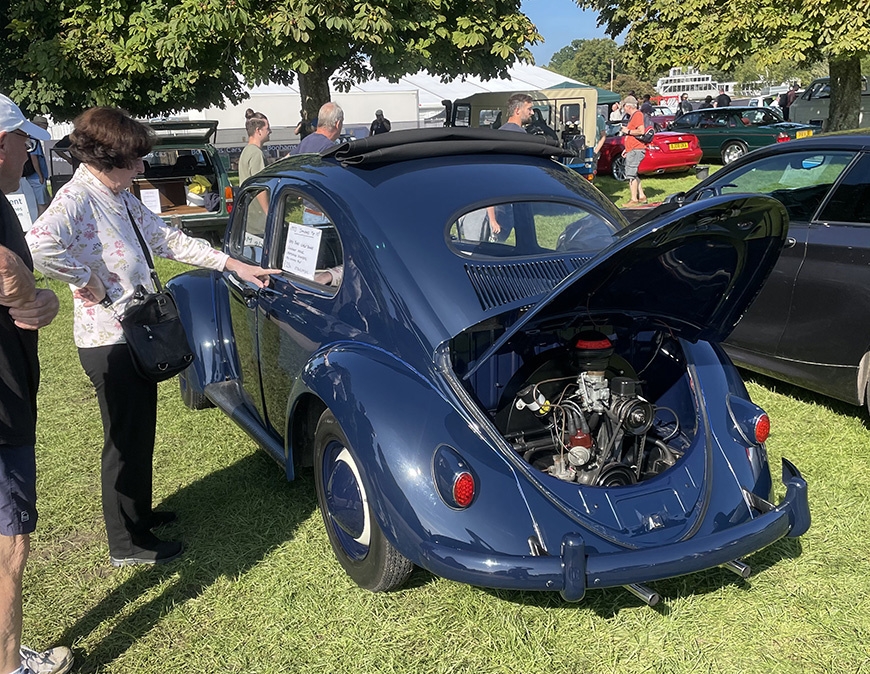 Potential buyers were also spoiled for choice by Automart, where all kinds of motors were on offer. £12,995 was being asked for a 1990 Renault 5 GT Turbo, which looked very striking in its bright red paintwork, while £23,000 would have bought a stunning 1955 Volkswagen, which was a rare early model with an oval rear screen and cable-operated brakes. Very different was an ex-hill climb Austin Seven special, which was keenly priced at just £2,500. While Dealermart featured top condition classics on offer from traders.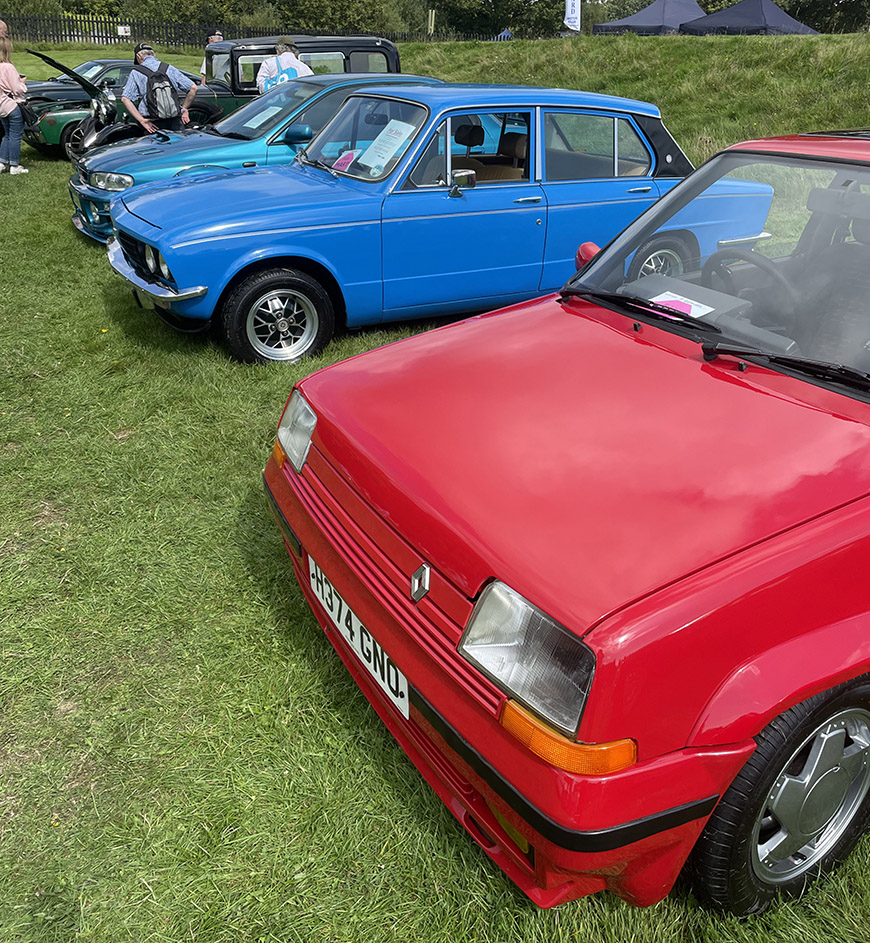 ---
Sunday's Trunk Traders was a frenzy of trading, with eager buyers snapping up all manner of bargains, from lights, badges, steering wheels and seats, to body panels, engine parts, motoring books, model cars and more.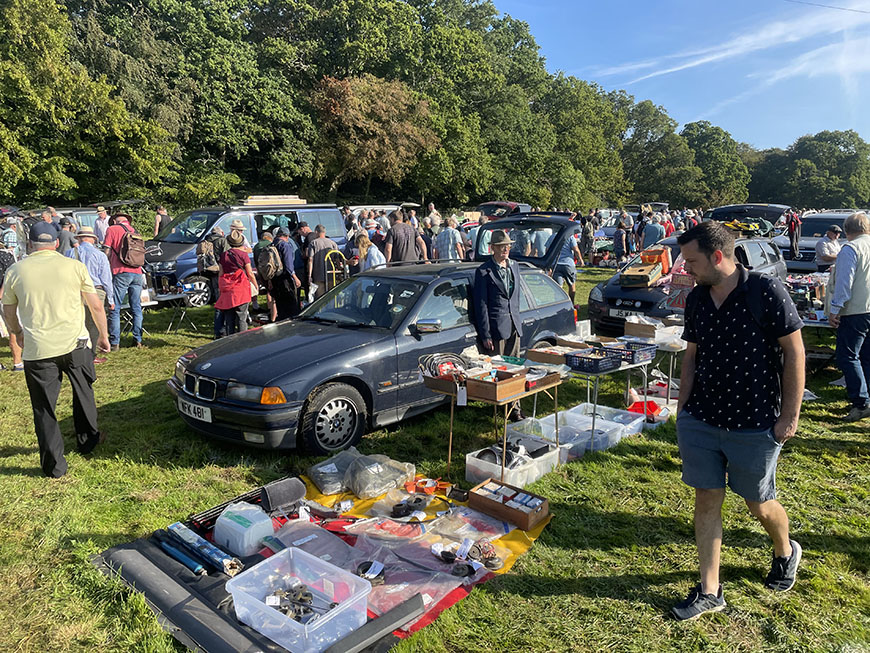 Show media partner Practical Classics magazine had brought along their garden shed to the show, from which the team chatted with showgoers and discussed automotive projects past, present and future. While the Morgan Sports Car Club displayed a shining selection of its members' vehicles.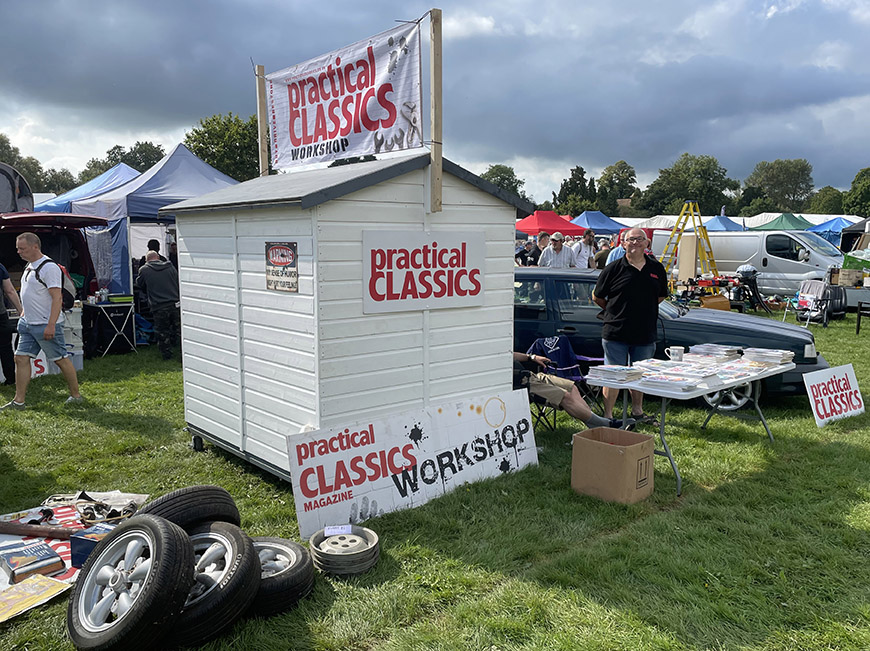 ---
Beaulieu's Spring and International Autojumbles will return in 2024, with next year's dates to be confirmed later this year. In the meantime, Simply French will be taking place on 10th September, followed by Simply BMW on 17th September, Simply British Classics on 24th September, Simply Tesla on 1st October and Simply Smart on 12th November. Click here for more information.
---
---