The Montagu family is sad to announce the death of Belinda, Lady Montagu, first wife of Edward, Lord Montagu of Beaulieu, and mother of Ralph, the present Lord Montagu, and Mary Montagu-Scott.
---
Early years
Belinda, Lady Montagu was born in 1932 daughter of the Hon. John de Bathe de Crossley, the son of Lord Somerleyton and Sibella Winifred Louisa Drummond, daughter of Cyril Drummond. She had two half-brothers, Charles and Anthony, who were eight and 10 years older. They lived on her grandfather's estate at Cadland near Fawley, their first home being Stone Farm where she developed her love of riding (as the farm still used working horses). Her father died from TB when she was just three-years-old, prompting the family to relocate to a newly-built house overlooking the Darkwater River near Lepe. Her mother was very much a part of the Blackfield and Fawley community, and it was from the people of these villages that Belinda formed her first friendships, many through the Mopley Riding Club.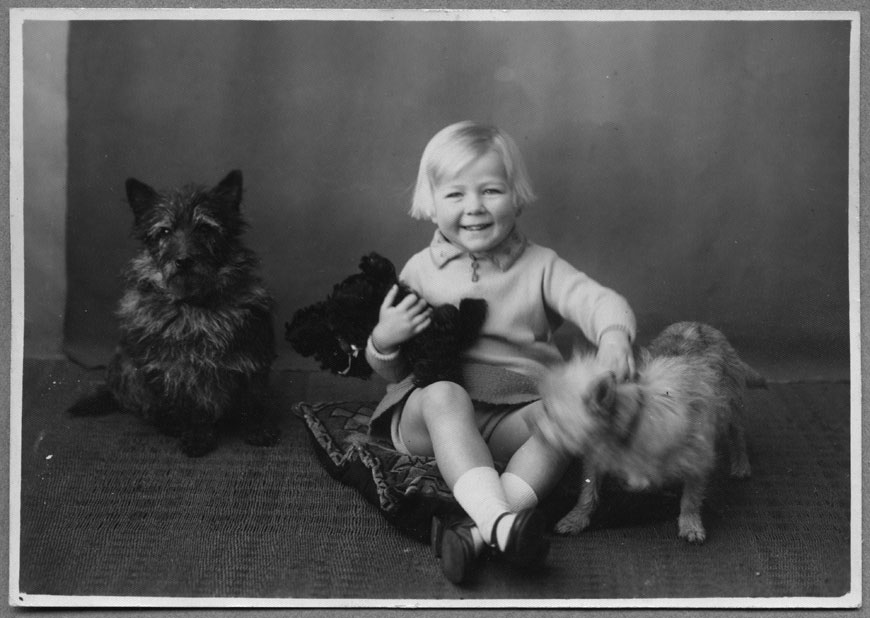 Belinda's schooling started at Miss Fraunce's School in London but, at the outbreak of war in 1939, the school relocated to St Giles House near Wimborne in Dorset. Looking back on those formative years, Belinda especially liked to recall the school holidays and the excitement of the build-up to D-Day. Living just a mile from the coast, and within a restricted area, she saw the construction of Mulberry harbour sections on Lepe beach together with the gathering of troops and the landing craft. Belinda also witnessed the crash of a Junkers 188 near Exbury, which inspired Neville Shute's novel Requiem for a Wren.
She showed considerable talent for drawing and painting from an early age and, at the age of 15, gained a place at the Byam Shaw School of Art in London and later at the Heatherley School of Fine Art. She then began a career as a commercial artist, her work including mural painting and employment with Alfred Wurmser, the supplier of captions and animated graphics for BBC Television. Living at Hennicker Mews in Fulham, she became part of a bohemian set whose membership included photographer Michael Wallis, fashion entrepreneur Alexander Plunket-Greene and Antony Armstrong-Jones who later married HRH Princess Margaret. Belinda's very basic flat was lacking a bath but, in an act of friendship she never forgot, Armstrong-Jones allowed her to use his!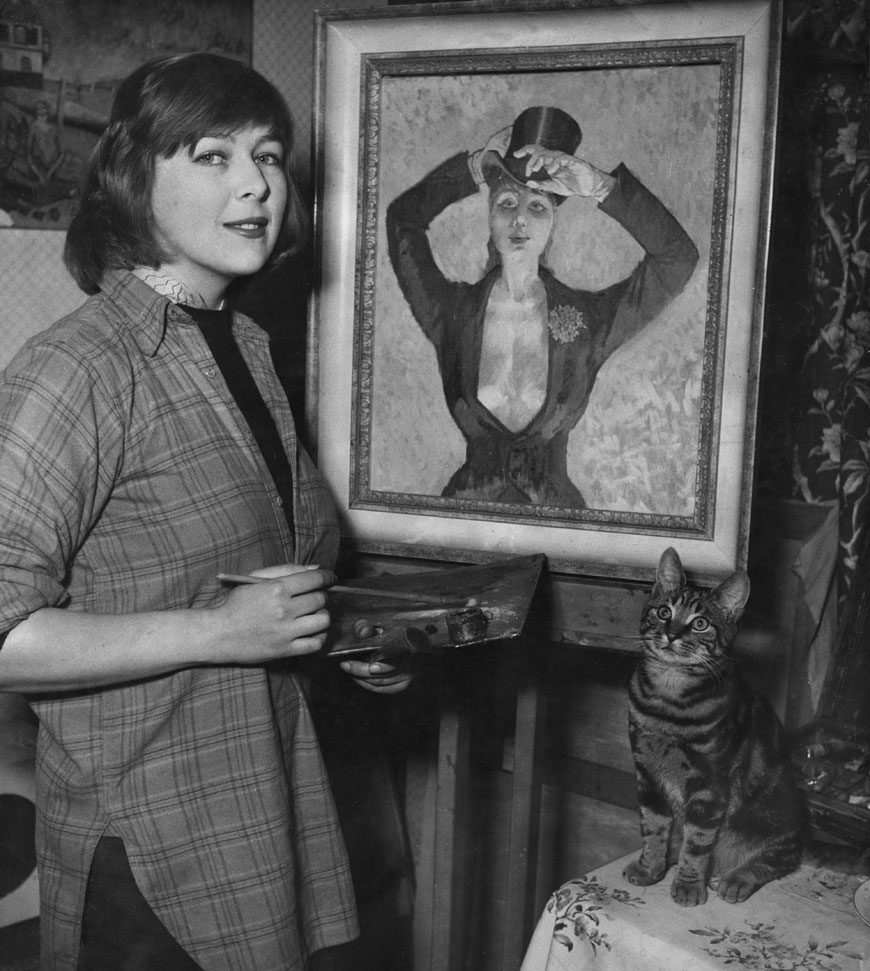 Beaulieu
The spring of 1959 marked a change of circumstances when she married Edward, Lord Montagu of Beaulieu and joined her husband in running his rapidly expanding visitor business centred on the family home, Palace House. Montagu's veteran and vintage car collection had quickly outgrown the space it occupied in Palace House and, in the week before her wedding, she was at her fiancé's side for the opening of a much-enlarged display in the Montagu Motor Museum.
The renowned Beaulieu Jazz Festivals were in full swing at the time and Belinda wasted no time in applying her skills to the painting of an old merry-go-round which was to be used as the main stage. Receiving the artists must have appealed to her as John Dankworth and his wife Cleo Laine became regular house guests and Big Band leader Vic Lewis dedicated a number to her called Lady Belinda.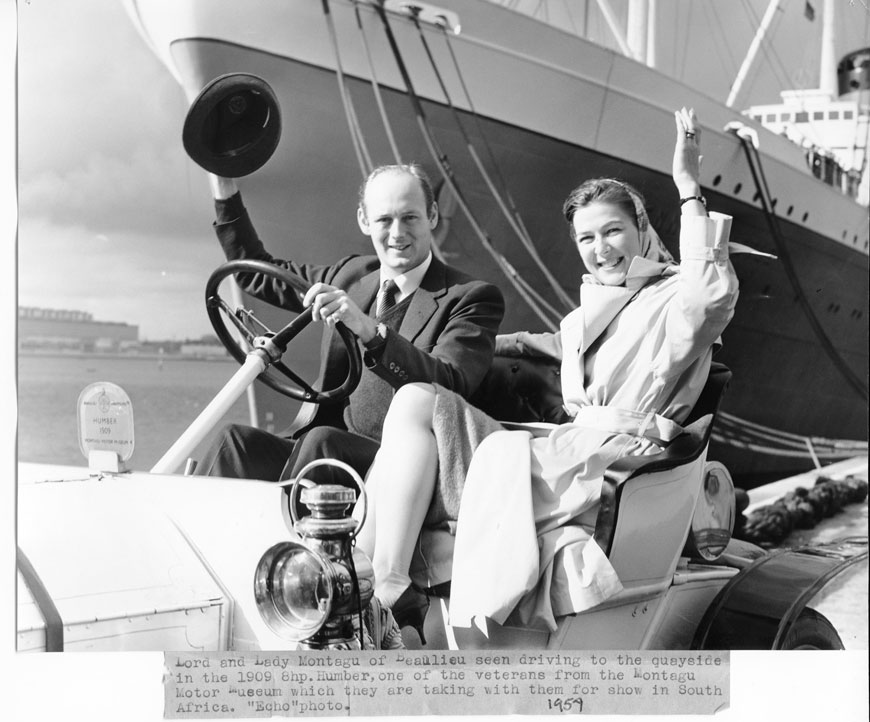 In the autumn, the newly-wed couple set sail for Southern Africa with four cars and three vintage motorcycles from the museum which formed a travelling exhibition. Belinda contributed to this with embroideries depicting early motoring costumes, works which were made long before she received any training in needlework. The trip included a visit to relations in Kimberley where her mother had grown up and concluded in Kenya where Tony, her half-brother, was farming. This was but the first of many overseas trips she made with her husband, most being linked to veteran car rallies and the promotion of Beaulieu.
In 1961, she gave birth to Ralph, now 4th Baron Montagu of Beaulieu and, in 1964, Mary. Injecting some visual levity to the Victorian nursery suite, she painted a series of tiles for the bathroom featuring circus animals, a recurrent theme in her work.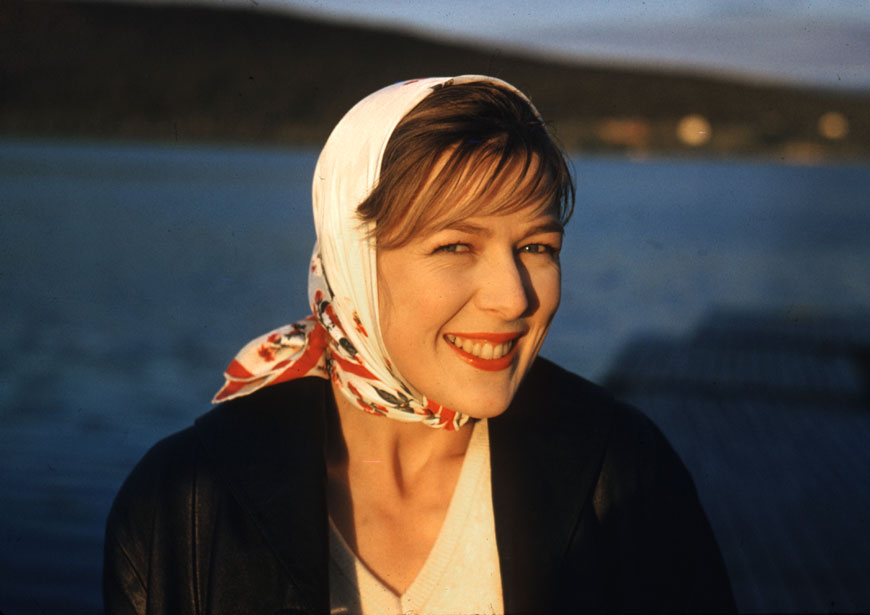 As the wife of a showbiz peer, Belinda was asked to carry out many official engagements, but she always made time for her animals, not least her Arab stallion 'Allah' which she rode on the open forest with the New Forest Buck Hounds. She also kept bantams, forest ponies, cattle, Jacob sheep and was never without at least one pet in the house. Through the years, these included whippets, cats and a parrot, all of which make appearances in her work.
Through the 1960s, Belinda did much to define the character of the Beaulieu and Buckler's Hard attractions, designing posters, souvenir tea towels, menus and displays for the motor museum. She was also up for new challenges: everything from water skiing with her husband on the river to driving a steam-powered lawn mower at the Beaulieu Traction Engine rally. She was so captivated by steam that she purchased her own Burrell showman's engine, Lord Nelson. This was followed by a showman's caravan which she restored and took to several steam rallies.
When the medieval banquets were launched at Beaulieu in 1970, Belinda created the costumes and occasionally donned the Baroness's costume herself when she and Edward hosted the banquets. Soon after, she researched, compiled and illustrated a book of old family recipes entitled To the Manor Born, which continues to be sold in the shop at Beaulieu.
Embroidery
Belinda's grandmother, Daisy Drummond, had been a highly respected dressmaker and this may have influenced Belinda's decision, in 1972, to enroll at Southampton College of Art to study embroidery. Meanwhile, at Beaulieu, the enlargement of the museum complex left Belinda feeling somewhat sidelined from the business, which she had been so much a part of in earlier years. This was undoubtedly a contributory factor in her decision to leave Edward and re-establish herself back on the Cadland Estate. The independence this gave her marked the start of a prolific period of designing and making embroidered textiles. She became a member of the Embroiderers' Guild and was a founder member of the Sarum Embroidery Group which specialised in ecclesiastical commissions.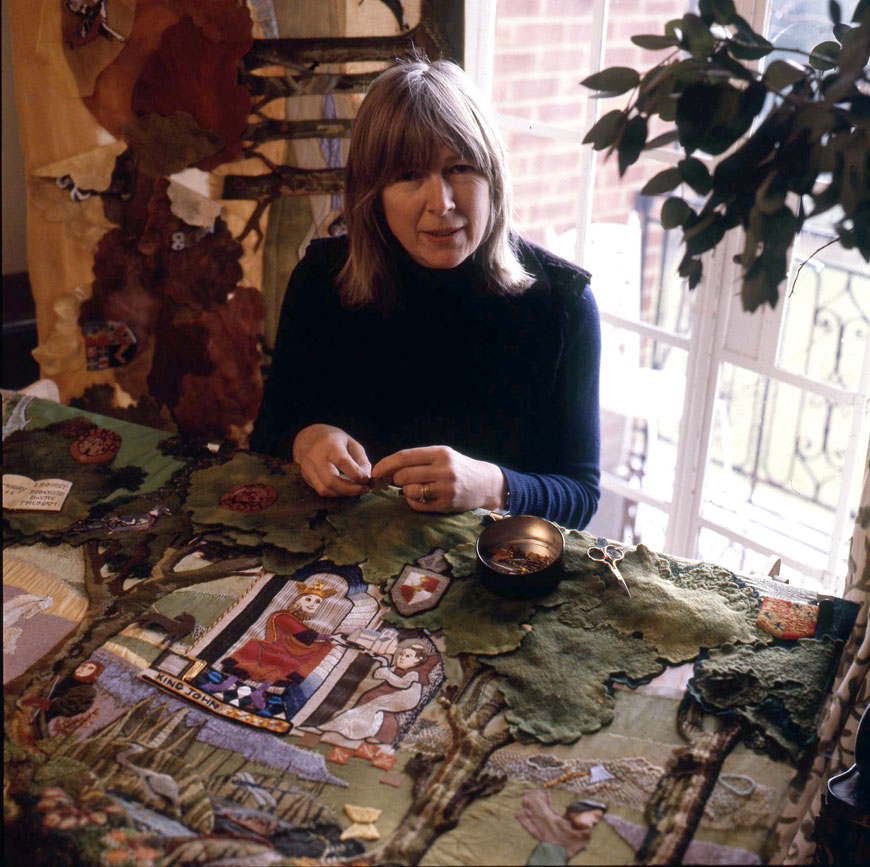 Her first large work, telling the story of the New Forest, was commissioned to mark its ninth centenary. Sixty volunteers contributed embroidered pieces using kits which Belinda prepared. The project, which took two years to complete, was viewed by HM The Queen when she visited the New Forest in 1979. The 28-foot-long embroidery is on display in the New Forest Centre in Lyndhurst. A series of mugs depicting scenes from the embroidery were produced in tandem and have become collectors' items.
In 1986, Belinda teamed-up with interior designer Linda Garland in a project to teach Balinese women embroidery skills, drawing on local materials such as pineapple fibre. The knowledge they imparted enabled the women to establish a workshop, undertaking work for the decoration of luxury houses around the world.
Building on this and other collaborative projects, her second book, Group Work in Embroidery, was published in 1986. In the same year, Belinda made a double cushion for presenting to HM Queen Elizabeth The Queen Mother on the occasion of her visit to Winchester Cathedral. By this time, Belinda had relocated to Longdown near Marchwood where she bought a farmhouse with direct access to the forest, an ideal place from which to ride her beloved New Forest ponies.
Belinda remained on good terms with her former husband and, in 1991, he commissioned her to produce a series of seven embroidered wall hangings depicting the history of Beaulieu Abbey from its foundation in 1204 to its dissolution in 1538. This was her largest ever undertaking and took seven years to complete. She combined a variety of techniques including canvas-work appliqué, patchwork and quilting. "What I love are the glorious colours and textures that you can obtain with textiles. It is a dimension which is impossible to achieve when you paint" she said at the time. The completed works, which remain on display in the Domus at Beaulieu, add much character to the story of the abbey and the hall in which they hang. She retained other links with Beaulieu, attending family gatherings and events, and was an enthusiastic member of the Beaulieu Hautvillers Twinning Society.
In 1997, Belinda made a new altar frontal and kneelers for the family's private chapel at Buckler's Hard to coincide with the wedding of her daughter Mary to Rupert Scott. A Royal commission followed in 1999, when HM The Queen asked her to make the kneelers for the wedding of HRH Prince Edward to Sophie Rhys-Jones. Other ecclesiastical work included kneelers for Salisbury Cathedral and an altar frontal for St Luke's Garrison Church in Soest, Germany.
Belinda never remarried and was happy in her own company but she also had some devoted friends, some of whom joined her on a series of travel adventures. For her, roughing it was a small price to pay to see parts of the world before "there were millions of people everywhere", as she put it. She walked across the Simpson Desert in South Australia with camels carrying their supplies, made a pony trek over the Chilean Andes and completed a voyage from Ushuaia, through the Beagle Channel and back. She also joined a Pacific cruise on Cunard's Queen Elizabeth II liner, running embroidery workshops for passengers.
Throughout her life, Belinda was active in the affairs of the New Forest and served as President of the New Forest Association from 1983 to 1995 and then as its Patron until 2021. She was President of the New Forest Show in 1995, a role she greatly enjoyed as she identified so closely with the Forest and its people. Being an emphatically down-to-earth character, it was practical people, willing to get their hands dirty, to whom she gravitated naturally. She was a keen gardener, served as President of the Southampton Horticultural Society and regularly entered Beaulieu Horticultural Society shows.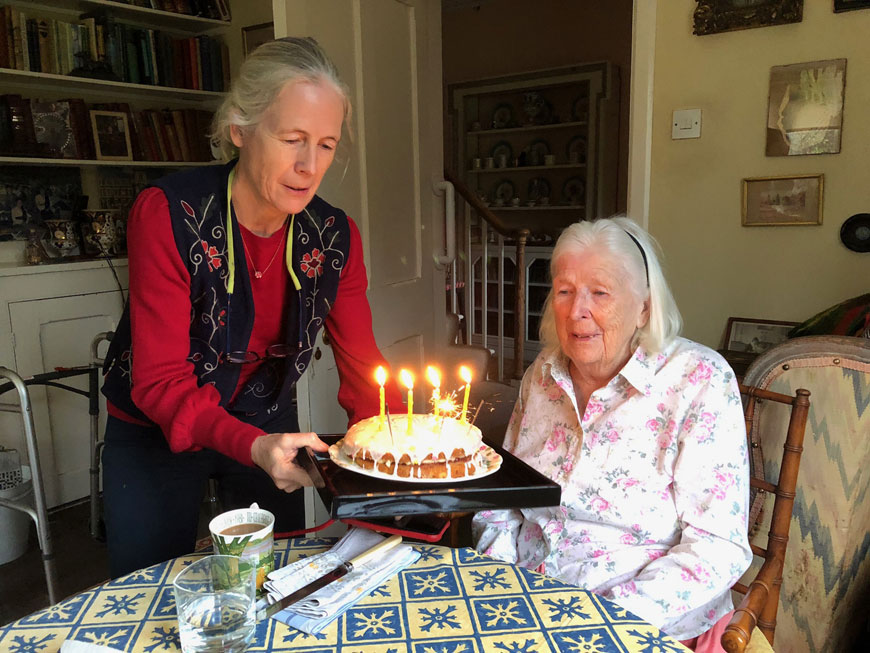 Lady Belinda died at home and leaves two children, Ralph and Mary, two grandchildren Benjamin and Emilia, and two New Forest ponies. Her creativity and craftsmanship will live on, especially at Beaulieu where her work adds so much to the richness of place. An exhibition on the Art of Lady Belinda, covering her achievements in drawing, painting and stitching over 70 years, can be seen in Palace House at Beaulieu.
By Lord Montagu
---
There will be a private cremation service, followed by a service of thanksgiving at a later date to be announced.
---
---