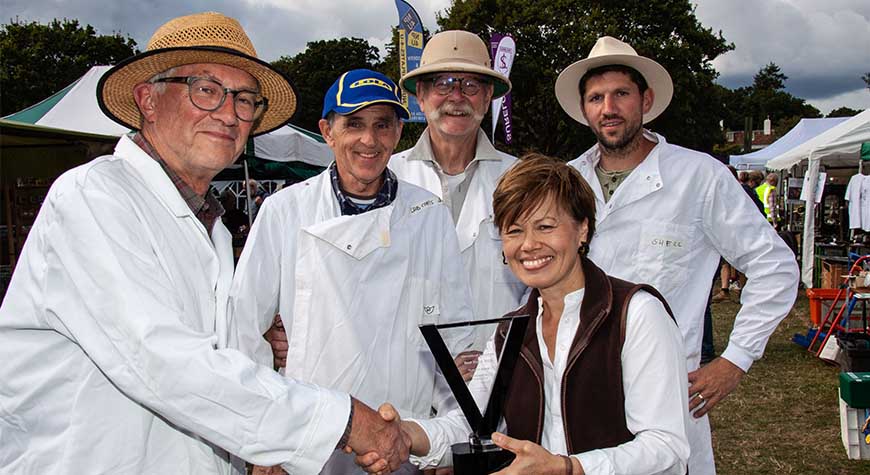 Join us as a trader on September 10th and 11th for the biggest outdoor sale of motoring items this side of the Atlantic.
---
Trade/ Jumble Stand SPACE
An uncovered stand space offering the ultimate flexibility for selling your jumble. Pitch your own marquee or brave the elements; the space is yours to fill with motoring jumble galore.
THE GRAND MARQUEES
3x3m stand spaces undercover – just turn up, set up your stock and let the customers come to you.
Please note: From 2022, the Grand Marquees will now be multiple marquees, each offering 14 spaces.
SHOP UNIT
A little more than just a trade space; book a shop unit and create a unique, enclosed trading space for the weekend with the perfect blank canvas.
Please note: from 2022, shop units will now be 3x3m gazebo units.
AUTOMART
The Automart is where individuals can make the most of thousands of visitors and sell their car at the Autojumble. From restoration projects to cars in concours condition, cars of all marques, models and styles are welcome.
DEALERMART
Dealermart is the perfect opportunity for dealers, restoration experts and coach builders to display and sell their vehicles in a dedicated area. Cars of all ages and styles are welcome.
Trunk Traders (sunday only)
This Sunday bonus sees amateur jumblers selling from their boots. You can book a plot to sell your wares (and try not to come home with more than you started with!).
Limited Availability – we will not be accepting bookings on the day for Trunk Traders.
---
how to book
Bookings are still accepted up to on the day as long as space permits.
If you are interested in exhibiting please complete and return a booking form or contact the Events team via events@beaulieu.co.uk or 01590 614614 for any queries.
Booking Information:
Click here for online exhibitor bookings.
Bookings are not accepted over the phone, we require completed bookings forms, or online bookings, to be returned to us.
If emailing a completed booking form to us, please do not include payment details on your form, we will phone you for payment details.
Please note: Exhibitor wristbands increase in price after 25th August to £78.50. We advise all stallholders to make purchases for additional wristbands prior to this date where they will be charges at £48.50 per wristband (max. 2 per stand space). If you wish to add these on to an existing booking, please phone us on 01590 614614.
---
REALLOCATION DATE
Please return your booking form to us by Midday Monday 4th July in order to retain your 2021 stand location*. Please indicate on your booking form your stand preference.
We will be able to inform you of your stand location please contact us after the reallocation date. Stands are allocated to new stallholders, or those wishing to move, after the reallocation date. Book early to get the best location.
*Unfortunately we cannot fully guarantee stand spaces.
---
stand locations for 2022
As you'll know, we always endeavour to offer you the opportunity to retain your stand space from the previous year; in this case the 2019 event for the Spring Autojumble and the 2021 event for the International Autojumble. The layout changes this year for both events mean stand space retention will not be feasible in every instance. We have notified affected stallholders directly.
We ask that you still indicate your preferred stand space(s) on the booking form, and we will try our best to accommodate your request.
If we need to consider further changes, depending on demand for stands, we will work with you to find a suitable alternative if your preferred stand position is affected.
Grand MarqueeS and Shop Unit Availability
We are welcoming bookings for Shop Units and the Grand Marquees, but must make you aware that these will only be available if minimum booking levels are met. If in the instance that demand is lower than usual for the covered stands, we may look to offer you an alternative option.
Alternatively, bookings for the covered spaces will also be cut off once capacity is reached, with priority given to those who were located within the covered structures previously.
Please note: due to a new marquee supplier the grand marquees will now be multiple marquees, each offering 14 spaces. Shop Units will be 3x3m gazebo units.
MARQUEES ON STAND SPACES
We are unable to offer marquees on individual stalls from 2022. You are welcome to apply to relocate into the covered stall options of the grand marquees or shop units (if space permits). If sourcing your own marquee supplier, please contact us to discuss arrangements for an external contractor to supply this for you.
---
brexit information
Now that the UK has left the EU, please be aware that the process required for EU traders to bring in goods for sale into the UK has changed. If you require assistance in obtaining information about the new process, please email events@beaulieu.co.uk
---
EXHIBITOR opening times for 2022
The event will open to the public at 09:30 hrs on the 10th September and 09:00 hrs on Sunday 11th September in order for us to better manage visitor arrivals. The vehicle movement times will now end at 09:00 hrs on Saturday and 08:30 hrs on Sunday in readiness for these earlier opening times. In order to prevent crowding of visitors prior to entry, visitors will now be able to access the Automart and Dealermart areas from 08:30 hrs on Saturday and Sunday, we do ask these vehicles to please arrive before this time where possible.
---
For general information and enquiries, please contact the events team.
---
Loyal exhibitors love it, look forward to it and often arrange their diaries around it.
The first Autojumble we came to I had my baby in the car, now my baby in the car who still comes with us is 53 years old!
---