If you receive the monthly Estate Newsletter, much of this bulletin will be known to you so please just click on the bits which most interest you.
Contents
---
LITTLE BEAULIEU
This time a year ago, we had just commissioned a new adventure play area called Little Beaulieu. This was a significant investment aimed at making Beaulieu more attractive to families with young children. Capco, the company who designed and built it, are well known for their innovative designs, and created something unique to Beaulieu, set amongst mature trees. But the virus, which once seemed so far away, was moving fast and just a few days after we opened Little Beaulieu in March, the first lockdown commenced. This period coincided with some wonderful spring weather and, with most of my meetings cancelled, I took the opportunity to shoot a few videos in the garden for our Youtube channel, one about the tree carvings and another about the Ice House.
Back to top
---
CORONAVIRUS CLOSURES
The impact of the pandemic has been severe for people all over the country, and our visitor businesses at Beaulieu and Buckler's Hard are no exception. The lockdown meant that our attractions were completely closed between late March and mid-June and all our major events had to be cancelled, including the International Autojumble in September and, most recently, the fireworks fair. This has resulted in a significant drop in income and, like many businesses, we've had to adapt quickly. The majority of our staff were put on the government's furlough scheme and many are now again. We have also made savings by freezing much of our project expenditure, reducing staff hours and making a number of posts redundant. Those who remained on duty during the lockdown put their time to good use, not least Museum Manager Doug Hill who posted a series of videos about cars and motorcycles in the museum. These included the 1903 Napier Gordon Bennet, 1904 De Dion Bouton and the 1924 Sunbeam Motorcycle.
Back to top
---
REOPENING
Re-opening of the gardens and yacht harbour in mid-June was followed by the full offering at Beaulieu and Buckler's Hard from 4th July. Before welcoming our first visitors, we ensured that the attractions met the requirements of Visit Britain's 'good to go' scheme and strongly encouraged people to pre-book to spread their arrival times. We also introduced one way systems in the motor museum and Palace House to help to manage visitor flow and social distancing. It was encouraging to find that visitors were happy to go along with this and the initial trickle of admissions slowly increased to the point that, on some days, we were matching last year's numbers.
Back to top
---
MOTORING IN MINIATURE
In the National Motor Museum, we unveiled Motoring in Miniature, an exhibition of over 800 toy and model cars from the 1920s to the 1990s. It doesn't matter what age you are, you can see the toys from your childhood whether they be wooden, tin plate, die-cast or plastic.
Back to top
---
MATCHBOX TOY CARS
In Palace House, I put together a display of my own Matchbox toy car collection dating mainly from the 1960s, plus some of those collected by my father. I have also enlarged the exhibition of my mother's embroidery and artwork to include a selection of the wonderful costumes she wore through the years.
Back to top
---
SIMPLY DRIVE-INS CARRY ON
We were also able to re-start our 'Simply' drive-ins at which participants are able to park at a safe distance from each other. In adapting to these circumstances, great credit goes to the staff who responded to these changes so positively. Their 'can do' attitude has been much appreciated by our visitors who posted very favourable reviews on social media. The adventure playground has also gone down very well and is giving much pleasure to both our young visitors and their parents who can watch from the side whilst enjoying a coffee.
Back to top
---
AWARDS
Our success in welcoming visitors post-lockdown may explain why Beaulieu was given a Travellers' Choice award by Tripadvisor. Another award came from the New Forest National Park Authority for the Art Russe gallery at the Clock House. The gallery space we created as an extension to the Clock House has been given the Building Design Award for 2020 in the Best Non-Residential category. Congratulations to architect Richard Bullen of Plum Architects.
Back to top
---
NEW TRUSTEES
The National Motor Museum Trust has recently welcomed a number of new members to its board. This includes people from the fields of museums, education, the motor industry, finance and fund raising. The injection of experience, skills and enthusiasm they have brought has been most welcome. I would particularly like to thank the trust's chairman, Christopher Macgowan, for his wise counsel and support as we plan for the future. The age of the internal combustion engine may be drawing to a close, but not the story of motoring. In the years ahead, we will be turning our attention to the technologies which will power personal transportation in the future, and showcasing new developments to keep our visitors informed.
Back to top
---
MARINA
On the river, completion of phase 1 of our marina redevelopment was delayed by the spring lockdown. Once the contractors were able to re-start, there was a great rush to finish the works, ensuring that our mooring holders had the benefit of the improvements and were able to use their boats again. I was encouraged to learn that the Buckler's Hard Yacht Harbour is in the running for 'Marina of the Year' at The British Yachting Awards for 2020. We are one of only six marinas to be nominated in our category, so fingers crossed.
Back to top
---
COUNTRYSIDE EDUCATION TRUST
The Countryside Education Trust has inevitably suffered badly from coronavirus restrictions and has not received any residential groups at Home Farm since March. We are chasing every funding opportunity we can whilst a skeleton staff are keeping the farm going.
In the summer, the trust hosted a series of open-air, socially-distanced performances of A Midsummer Night's Dream  and Romeo and Juliet. These took place in Hartford Wood and were produced by local theatre director Abbey Wright, who is now working on plans for an open-air production of A Christmas Carol, which we hope will take place around the abbey ruins if restrictions permit.
In October, two of the trust's pigs were put out to pannage; sadly, one was fatally injured by a hit and run driver outside Brockenhurst. More encouragingly, the trust has now started to receive a few day groups, but a mere fraction of the normal numbers.
Back to top
---
BEAULIEU VILLAGE
In the village, the spring lockdown was a big blow for traders but gave a number of tenants the chance to complete relocations which had been planned for some time. New Forest Activities moved to a converted barn at Hazelcopse; their old premises, The Old Forge in Beaulieu High Street, was taken on by Alisha Openshaw for Beaulieu Hair and Beauty. Her former premises were, in turn, rapidly fitted out as the take-away part of Steff's Kitchen, under the name Steff's to go. Then, at the end of last month, Ian Thompson retired from the Old Bakehouse tearooms, which will now be operated by Dominic Ide. Dominic deserves a special mention for operating a food order and delivery service during lockdown, assisted by local resident Vanessa Cook who set up a Beaulieu village Whatsapp group to keep people in touch. Sadly, the Abbey Stores and Post Office, owned by the Montagu Arms Hotel, only re-opened briefly for a closing down sale, so the village no longer has a post office.
Back to top
---
A NEW ARRIVAL!
In the middle of lockdown on 29th May, my brother Jonathan, who lives in Berlin, became a father when his wife Nathalie gave birth to a baby girl, Akina. Unfortunately, travel restrictions have prevented me from meeting my new niece, but I hope to do so before too much longer. We nevertheless marked the arrival of a new girl in the family in the customary way by raising a pink flag over Palace House.
Back to top
---
WORKS ON THE ESTATE
On the wider estate, some project work has continued. For example, a good deal of roadside fencing has been replaced, and to a very high standard, by Graham Pothecary and his son Julian, part-funded by the Countryside Stewardship Scheme.
And at Buckler's Hard, the Duke's Bath House was refurbished under the supervision of my wife and has now become the third of the estate's holidays cottages. With such an attractive interior and setting, it was quickly booked-up for the summer and feedback has been very positive.
There were no significant changes on the farms, although Sandy Booth's New Forest Fruit Company at Pennerly encountered great difficulties getting pickers here on time due to covid regulations. In fact, some of those workers were subsequently deployed in the Beaulieu Vineyard as Sandy has taken the lease of vineyard and started a programme of replanting the old vines. It is my earnest hope that his expertise in fruit production will enable him to make a success of the vineyard which was a loss-maker for many years when we ran it in-house.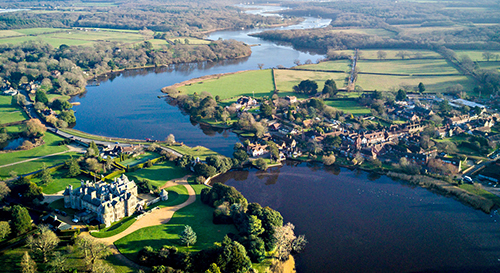 Back to top
---
LIVING WATERS
Nearby, the stream which feeds a number of ponds in Hartford Wood has been the subject of a study by the Living Waters Project. The ponds are important wetland habitats and home to protected species such as the Great Crested Newt, Common Toad and European Eel. It is pleasing to report that, ecologically, Hartford Stream is in excellent condition and notably free from nutrient pollution.
The researchers were delighted to find young eels using the newly installed bristle-brush passes. European Eels have a remarkable life, spending up to 20 years in streams and ponds before migrating thousands of miles to the Sargasso Sea in the Atlantic Ocean, where they breed. The young eels – known as elvers – then return to European coasts before migrating into freshwater to feed and grow. Worryingly, the number of elvers have declined dramatically in the last 25 years and the European Eel is now critically endangered. Climate change, overfishing, parasites and pollution are all contributory factors. Whilst this demands international solutions, it is nice to know that Hartford Stream is playing its part with the recently installed 'eelevators' helping the eels to reach their feeding ground.
Back to top
---
NITRATES
The same researchers have also been looking at the Beaulieu River where nitrate and phosphate levels are noticeably higher. While these are below the limits set by the Environment Agency, we have supported a number of initiatives with tenants to ensure that water running off the land is filtered and cleaned before it reaches the river. Unfortunately, we have no such control over the sewage treatment plants at Lyndhurst and Beaulieu where the operator, quite legally, makes storm water discharges into the Beaulieu River. The effects are regularly noted by the fishermen and we fear this may also be the cause of disease in our oyster population. The problem is a national one and the solution will be additional investment which may only be forthcoming if the law demands it. I am not expecting quick results, but awareness of the need to manage nitrate and phosphate levels is steadily building.
Back to top
---
THE PRESSURES OF RECREATION
The whole of the New Forest, and many other parts of the countryside, endured extraordinary pressures during the early summer when people, tired of the lock down, were understandably desperate to get out. I suspect many were those who usually spend their free time at urban recreation facilities but, with these being closed, turned to the countryside. Whilst this is entirely understandable, there seemed to be an element who believed that because everything was officially closed, there would be no-one there to enforce the rules.
The consequences of this on Gull Island at the mouth of the Beaulieu River were particularly unfortunate. This spit forms part of the North Solent Nature Reserve where the vulnerability of ground-nesting birds is such that it is out of bounds at all times. In mid-June, during an inspection to monitor breeding success, some disposable barbeques were found discarded on the shingle. Nearby were the bodies of two very rare chicks which had recently perished, almost certainly because the parents, having been disturbed by the trespassers, were unable to tend to their young. There is strong evidence that the perpetrators came by paddle board, possibly the blow-up type which many people were using for the first time this summer.
Back to top
---
PROTECTING SENSITIVE SITES
The riverside walk which adjoins the main Beaulieu to Buckler's Hard footpath was closed last winter to give the ground a chance to recover from years of soil compaction and the trampling of vegetation by walkers and unauthorised cyclists. A recent survey has revealed that while there are some signs of improvement, the condition of this area remains far from satisfactory. I therefore decided to extend the closure until such time as the wood, which is a Special Area of Conservation, has properly recovered. Unfortunately, some people are set on ignoring the signs and continue to walk in this wood; their actions simply compounding the damage already done. I therefore appeal to everyone to respect this fragile environment and help its recovery by staying on the main footpath.
The estate office also received numerous reports this summer concerning the misuse of the riverside and coastline by people who were either ignorant of the rules or were deliberately flouting them. This included fishing without a permit, the launching of paddle craft from unauthorised locations and vandalism. We have sought to respond with positive measures to better inform the public and I am pleased to say that at Park Shore, volunteers from 'Solent bird aware' will be present whenever they can to help educate and inform visitors to the beach.
Back to top
---
COASTAL PATH
As demand for recreation in the countryside increases, so does the need for people to understand the vulnerabilities of the places they visit. It only takes the actions of a few ill-informed or irresponsible people to do huge damage to sensitive sites and endangered species. Moreover, as overall numbers of people walking, cycling and driving in the countryside increase, so the health of the ecosystem will be eroded. This is a point I would particularly like the access wing of Natural England to take notice of. If their proposals for the coastal path are put into effect, our ability to manage sensitive sites close to the river will be so curtailed that the land may never return to favourable condition.
Back to top
---
THE PRESENT LOCKDOWN
Turning to the present lockdown, whilst the Beaulieu and Buckler's Hard attractions are closed, most of the shops in the village remain open in some form, many with a click and collect service. This includes the Queensmeade shop now run by Finola Shaw who is stocking a variety of locally-produced food lines and aiming to establish this as the village grocery store. All the traders depend on local residents for support so please make use of the services they provide. This includes the Farm Shop at Hazelcopse and the Countryside Education Trust which has a monthly pop-up shop, giving people the opportunity to order some of their produce including the newly pressed apple and pear juices.
Back to top
---
MARINA WORKS CONTINUE
Construction activity has not been curtailed by the present lockdown so work on the second and final phase of the marina reconfiguration started as planned in November. We are now taking reservations for 35 newly dredged berths which should be available by next April. This video was taken last week just as work commenced.
Back to top
---
FAREWELL STEPHEN AND JUDITH
Two long serving staff members will be retiring in the spring; Commercial Director Stephen Munn and Events Manager Judith Maddox (pictured centre left and right). They have been at Beaulieu for 25 and 18 years respectively and I would like to express my gratitude to them both for the contribution they have given to the business through the years. Steve has steered us through some major projects such as Bond in Motion and the World of Top Gear whilst Judith has overseen the development of our events with many significant additions, not least the Simply drive-ins.
Back to top
---
LOOKING AHEAD
So what of the year ahead? We have been fortunate that the New Forest has only suffered low levels of Covid and remains a popular visitor destination. Experience from this summer suggests that the demand for days out in the countryside, at well managed attractions, has not diminished, and so we look forward to welcoming visitors back when the time is right. Some of our events will be more difficult to organise whilst social distancing is required but we are still making plans to do so.
Back to top
---
PARKING
In Beaulieu village, a new private car park is to be constructed in part of Hayward's Field for the cars of residents and traders, freeing up on-street spaces for people who, we hope, will make more use of the shops. My gratitude to the Beaulieu Beaufort Foundation for funding the capital costs of this.
Back to top
---
THE FORT CLIMATE CENTRE
The Countryside Education Trust hopes to go ahead with the construction of the Fort Climate Centre at Home Farm (pictured below). This new facility, which is the brainchild of local philanthropist Ted Fort, will be dedicated to informing people about climate change. The charity is also planning to start rural courses in January and an after-school club Beaulieu School children starting, we hope, in the summer term.
Back to top
Whilst Coronavirus has not stopped us making plans for the future, the pandemic continues to cast a shadow of great uncertainty over all our lives and businesses. The estate, its staff and tenants have endured difficult times before. I am doing my best to ensure we survive this storm and come through it fit to face the future.
---